Dear Greenlights,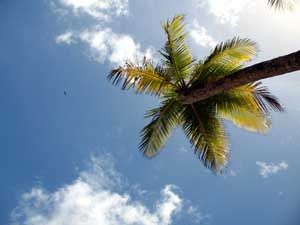 *
A quick recap of our meeting on Tuesday 6th June, 2006. Thanks to those who attended the meeting. Your input was invaluable and we feel we are building a strong team of people who will get things done whilst having fun in the process.
The following points were discussed:
1. This Saturday (10th June), some of the Greenlights will be going back to the mangrove area in Felicity, Chaguanas to see how possible it will be to collect more plastic bottles for recycling (The
R.E.B.I.R.T.H.
project). The area has been/is being dredged, so the pathway is not as user friendly, but it may still be possible to get work done on foot. Those interested in going with Glen and crew can meet at Glen's house/Greenlight headquarters (21 Lyndon Street, Curepe) at 6:00 on Saturday coming. For more information, e-mail Greenlight.
2. We discussed Greenlight t-shirts (several print quotes are being investigated). The plan is to print round-necked tees (logo & funky environmental design) for casual wear and button-up polos (with logo on front pocket only) for meetings. We would love artists/creative people in the group to develop designs (for the funky round-neck) so that a favoured design can be selected. Design submission requirements (for funky round neck t-shirt) will be properly outlined in a separate e-mail. But for now, artists, start thinking - and remember to include the logo in your concept. (Other specifics to come).
3. On Saturday July 1st we will be gathering in Tunapuna market at 8 a.m. for
The REvolution
. We will need over 50 people for this venture, which will take us from Tunapuna to Curepe junction by 10 .m. Sidewalk Radio has expressed interest in teaming up with us on this venture - assisting through announcements, live radio call ins frmo the road during the 2 hours of our project on that day, etc. An outline of this project will be written up and sent to the group in the near future so you will know exactly what this positive movement is all about.
4. We discussed THE SOURCE, our Woodstock-style whole day environmental concert - now carded for October. Two venues (in the East) are being investigated, artistes are to be contacted, sponsors sourced and other elements put into place. Let us know if you are interested in being a part of this (committed) core organising team.
Our next meeting will be on Monday 19th June
from 6 p.m. at 21 Lyndon Street, Curepe
(jot it down in your dairy).
All of the points listed above will be fleshed out further at this meeting.