A successful meeting was had this evening. The following are the details in point form, just to give an idea for those who were not able to be present.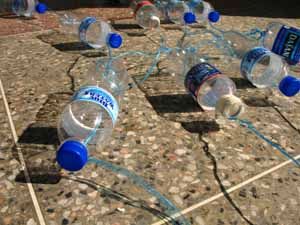 As scheduled, I DO 2 will be happening on Saturday 2 September 2006 in Arima.
Click here for details on the starting point and the route
.
1. Those who want to travel in the car pool can meet at 7:00 a.m. at Glen's house, 21 Lyndon Street, Curepe. We will leave for the latest by 7:15 a.m. and head to our starting point in Arima.
2. Terscha will play the bride/Environment
3. Michelle will be her 'assistant', carrying the garbage bag and playing the bottle and spoon for the wedding march and to draw attention to the procession
4. Items to be supplied:
- Green wool - Elspeth
- Printed pledges, face paint and bridal face painting - Janessa
- Scissors - Glen
- Bottle and spoon, bridal bouquet - Michelle
- Vikash - questionnaire to monitor public feedback/comments
- Video documentation - Rosanna
- Photography - Elspeth
Members of the 'wedding party' who will be reading out the pledges to members of the public (and tying the green commitment bands on their wrists), please wear white tops and blue jeans.
*
Other ideas that came up in the meeting:
1. Getting a bridal shop to sponsor a nice new wedding dress.
2. In addition to using the bride on the streets, take her to other events (e.g. concerts and plays) in which a captive audience will be exposed to her 'out of the blue'. This will also give us the opportunity to say more about her, possibly even having the bride herself say a few words.
3. Getting the bride to attend public environmental meetings (e.g. public consultations held by companies like ALCOA; any other public meeting that has to do with the environment, etc.).
4. Getting a dramatic group to develop a play incorporating the bride and her trail of bottles as a central figure
5. Putting an ad in the papers which is simply our original invitation minus the street route details (see below). It will simply feature the photo of the bride with her trail, the pledge, the Greenlight logo and website address and the logo of our sponsor.