In what is perhaps an effort to entice us to her part of the world, (the other) Elspeth from Tasmania - our first international member - sent this lovely photo via e-mail.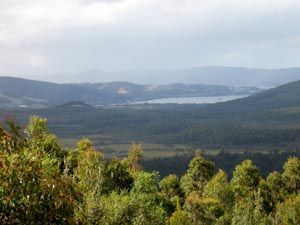 Now we can put an image to what she said in her introductory e-mail about herself:
"
My parents and sister live in suburbia. I used to live there too until I discovered country life 20 odd years ago: cows and calves, paddocks, beaches, quiet roads, bird life, dolphins occasionally, really lovely. I don't live in that spot now, but I'm only 1/2 hr drive away from it. I look at hills covered in trees, and depending on the weather I can hear the river, which is only a few minutes walk away
."
*
In other news, today about 40-something students from Holy Cross College in Arima signed up for the Greenlight Network. Their names have not yet been added to the mailing list, but will be soon. Welcome, boys. You are now part of our rapidly growing
Youth Arm
.
*
Today's Greenlight meeting
Today's Greenlight meeting was spent discussing logistics of the mangrove clean up on Saturday 6th May, 2006.
Details are here
. Thanks to Mr. Manswell (from RIM, the plastic recycling company) for attending the meeting and giving valuable input. All
volunteers
will be getting a call this week as a final confirmation of attendance on the day of
R.E.B.I.R.T.H.
(Recycling, Environment, Beauty, Innovation, Responsibility, Truth, Healing).
*
Mechanics of the process
On the day, for the sake of efficiency, there will be working teams consisting of 3 people each:
1. The Fisher (fishing bottles out of the water with a special contraption)
2. The Drainer (draining water out of the collected bottles and putting them in the bags)
3. The Bagger/Piler (holding the bag open for the Drainer to put the bottles in, then piling the bags into a large heap).