(The vow):
Do you _____________ take the Environment to be your lifelong companion, to protect her and cherish her, respect her and honour her through all seasons, in good times and in bad ... forever?
For those who were unable to make it this morning to the
I DO
procession, here are a few of the many photos of what turned out to be a very enjoyable and impactful morning.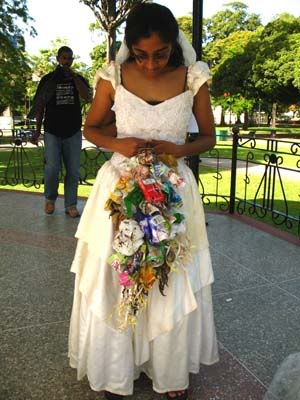 The Environment (symbolised as a bride) was played by Gabrielle Hosein. Here she stands in her 'dressing room' (the bandstand in Woodfrod Square) just before we hit the streets of Port of Spain. Thanks to Tersha and her mother for making the bridal bouquet out of all kinds of junk and rubbish (cigarette boxes, aluminium cans, cardboard things, tissues, plastics, etc. In other words, things we often see floating in the drains).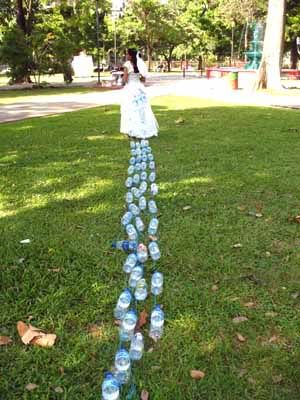 Walking across the grass of Woodford Square with her trail dragging behind her.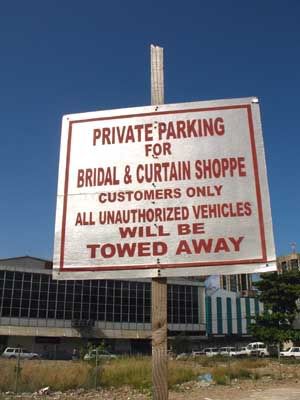 A pity we didn't see this earlier. We might have been offered free parking.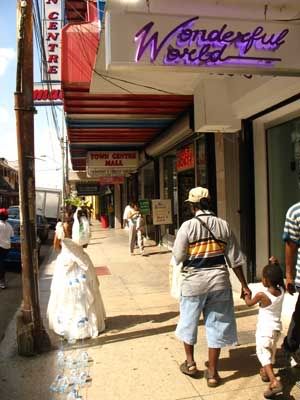 Yes, it would be a wonderful world if people wouldn't litter (among other things).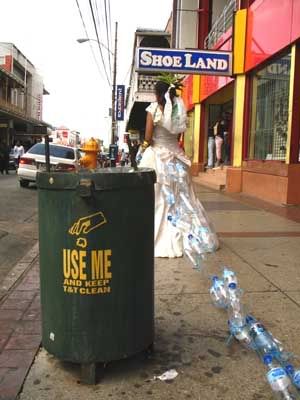 Self explanatory.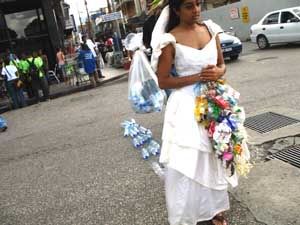 Crossing the street at Independence Square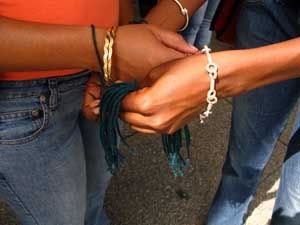 Janessa ties a commitment band around the hand of a citizen. Many people committed to the environment. There were those who really looked as though they meant it, those who were into it for the fun/curiosity, those who wanted to be on TV, those (male) who wanted to simply gawk at the bride.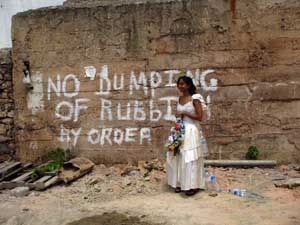 Say it loud.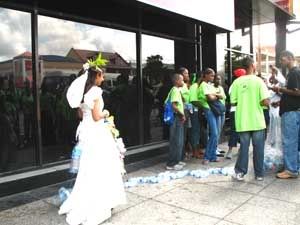 A group of youths dressed in green gravitated towards the bride. Several of them were among the many for the day who said I DO and cut bottles from her trail to free her from the 'strangulation' of garbage.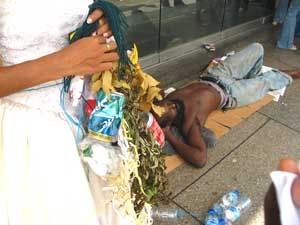 Homelessness. Another issue.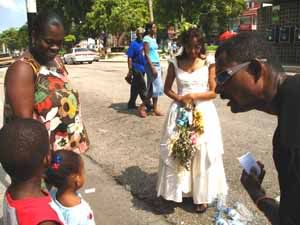 David reads the vow to some little children.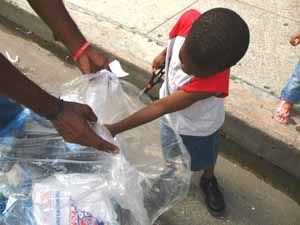 The little boy cuts a bottle from her trail and deposits it in the bag we provided.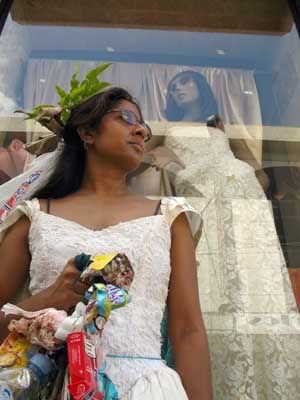 Thanks to:
All of the members of Greenlight who were a part of this.
Gabrielle Hosein
(for playing the bride/Environment)
Sonja Dumas
(for lending us the dress, which she had acquired from a garage sale)
Gayelle TV
(for always being there)
CNC3 TV
(to the camera man who could not find us and turned up at the end but still captured a good final moment)
The members of the public who committed
Mother Nature
(for giving us great weather)