Dear Greenlights,
We are making progress in our plans for the collection and recycling of plastic bottles (from the mangrove, in the first instance). A few of you have already signed up for the mission.
Those who have attended recent Greenlight meetings will know that Glen, project co-ordinator for this venture, has made contact with
Recycling in Motion
– the company in San Juan which has agreed to chip or crush the bottles we collect and export the chipped/crushed plastic to global recycling companies.
The time frame for the first (volunteer) clean-up has been pinpointed as
the weekend of 6th and 7th of May, 2006
.
A proposal has been written, to send to companies for funding the project.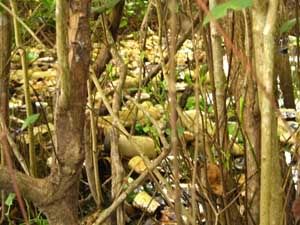 This image shows a shameful carpet of plastic bottles choking the mangrove in Felicity, Chaguanas.
Come on, humans! You know what bins are ... or do you?
Those interested in volunteering to assist with the clean up just have to e-mail us and indicate their commitment. Come and get your hands dirty (or rather, get your gloves dirty) and bring some relief to the mangrove in the Felicity, Chaguanas area.
This is not what mangrove areas were made for.