Right now, the mangrove in Felicity, Chaguanas looks like this ... on a 'good day'.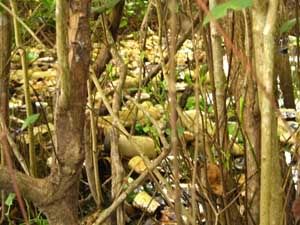 Below is a list with the names of Greenlights who have signed up as volunteers for the
mangrove clean-up/plastic bottle recycling project
on the weekend of
6th and 7th of May, 2006
. This list will be updated as more sign up.
(Volunteers in alphabetical order)
Anika
Cathal
Dyanand
Elspeth
Emma (Liam's sister)
Fay
Fay's son
Glen
Liam
Mitra
Ranger Rangbak
Rianna
Rosanna
Sita